tour description
Mit allen Sinnen durch "Allahs Garten": Kultur und Menschen werden wir auf unserer Motorradreise durch die "Schweiz von Nordafrika", wie Tunesien auch genannt wird, kennenlernen.
Sowohl On- wie Offroad sind wir mit dem Motorrad unterwegs. Ein Geländewagen ist immer mit dabei. Für die sichere Fahrt durch die Wüste starten wir vorab mit einem Endurotraining und lernen die Grundlagen des Sandfahrens. Auch unterwegs verraten wir immer wieder Tipps und Tricks für die Fahrt durch die Wildnis. Es erwartet Dich eine Reise durch quirlige Städte und grüne Oasen, wilde Gebirge mit Höhlen und Wasserfällen und weite Ebenen mit Dünen und Salzseen. Dieses Enduro und Reiseerlebnis im Norden von Afrika führen wir sehr erfolgreich seit 2001 durch und freuen uns immer wieder auf die nächste Reise, vielleicht mit Dir?
Enduro Tour von Deutschland nach Tunesien:
Alle, die wollen, treffen sich am Freitag bei OVERCROSS in Tübingen: Gemeinsam geht's ab nach Genua, die Motorräder auf dem Hänger und die Teilnehmer im Expeditions Pick Up. Mit Pizza und Pasta am wunderschönen Comer See eröffnen wir den Urlaub. Auf der Fähre nach Tunis genießen wir die Brotzeit auf Deck, die kühle Brise der See und das letzte kalte Bier bei einem herrlichen Sonnenuntergang.
Afrika voraus! Ausgeschlafen laufen wir im Hafen von Tunis ein. Wir stürzen uns in den Tumult beim Zoll, für die einen Chaos für die Anderen Afrika pur. Die ersten Kilometer auf afrikanischem Boden bis zur Tankstelle, Volltanken für ein paar Euro und dann spulen wir die letzten Kilometer on the Road ab zu einem Hotel außerhalb der Stadt. Beim gemeinsamen Abendessen in einem kleinen Restaurant sammeln wir die ersten kulinarischen Eindrücke.



Bild: Mit der Enduro zum Fort in Ksar Ghilane
Mit der Enduro über den Tell-Atlas, Chottebene bis hin zu den Kulissen von "Star Wars"
Unsere erste lange Motorradetappe in Afrika: Immer kleiner werdende Straßen, mit viel Abwechslung und schönen Aussichtspunkten. Als Draufgabe erwartet uns ein leckeres Abendessen am Bauernhof unseres Freundes Rauf. Weiter geht's On- und Offroad über einige kleine Gebirgszüge bis wir unser nächstes Nachtlager erreichen: eine Höhle mit Blick auf die südtunesischen Salzseen der Chottebene und in der Ferne spiegelt sich eine Fata Morgana aus Wasser und Dünen? Von unserem Versteck aus geht es aber noch einmal durch die Ausläufer des Atlas Gebirge. An einem ehemals idyllischen Wasserfall nehmen wir das Bad im kalten Nass. Tagesziel: Die Oasenstadt Tozeur. Für die nächsten zwei Nächte sind wir in um Touzeur und nutzen nach den letzten staubigen Etappen ausgiebig die Dusche bevor es in die Sahara geht. Die Kulissen von "Star Wars" schimmern in der Sonne: Fotozeit, Auszeit und Sandfahrtraining.
Vom Chott el Jerid zu bestem Wüstenerlebnis und dem Bad in der Oase
Über abwechslungsreiche Schotterpisten bewegen wir uns ostwärts quer durch den großen Chott el Jerid Salzsee. Angelernte Fahrtechniken vertiefen und verfeinen wir auf dieser ebenen Etappe mit Nichts. Gefachsimpelt wird bei einer Tasse Tee mit unserem Freund Habib, der größte KTM-Fan diesseits und jenseits aller Wüsten. In Douz, erholen wir uns von der knackigen Etappen der Vortage, Stadtbummel, besuch beim Babier und eventuell das ein oder andere kalte .......... schauen wir mal. Letzter Check up for der Wüste: Die Motorräder werden wieder auf Vordermann gebracht und wir perfektionieren bei einer kleinen Oasenrundfahrt die Sandfahrtechniken. Denn nun tragen uns die Enduros weiter in die Wüste: Querfeldein über wellige und verspurte Pisten. Unser Ziel ist die Oase Ksar Ghilane. Übernachten werden wir in den nächsten Tagen in mitten der Dünen. Wüste Pur.Bei 36 Grad warmem Quellwasser durchspülen wir unsere staubigen, trockenen Knochen und gönnen uns wohlverdiente Entspannung. Die Unermüdlichen können sich im Sand austoben und eine Kaffeefahrt zum nahegelegenen Fort unternehmen.

Bild: Mit deiner Enduro durch die Wüste springen
Rückreise über das Dahar Gebirge. Schlafen in Burg und Höhle.
Auf holprigen Straßen und Pisten erreichen wir das Dahar Gebirge, wo wir das Glück haben, in einer traumhaften Speicherburg aus dem 15. Jahrhundert kampieren zu können.
Die letzten Kilometer staubige Schotterstraßen winden sich durch das Dahar Gebirge. Nach einem kurzen Stop in Matmata und einer Teepause in einer ursprünglichen Höhlenwohnung geht es weiter nach Norden. Wir machen Etappe und erreichen wieder unser Basislager bei "unserem" Bauernhof. Auf schnelleren Straßen nach Tunis. Dort tauchen wir wieder ein in die Zivilisation: Souk, Kaffeekultur und das bunte Leben der Stadt.
Good-bye Africa, guten Morgen in Genua
Früh am Morgen stechen wir wieder in See: Back to Europe. Und nach einem letzten Espresso am Hafen von Genua trennen sich unsere Wege wieder.
Schlusswort
Geeignet ist diese Tour für alle Arten von Enduros und Reiseenduros. Mehr Spass macht es sicherlich mit leichteren Enduros, aber geschafft hat es noch jeder! Du hast auf der Tour IMMER die Möglichkeit am Folgetag eine andere Etappen selbständig auf der Straße zurückzulegen. Alternativ zur Anreise mit der Fähre könnt ihr auch fliegen und wir übernehmen den Motorradtransport von Tübingen nach Tunis.
Hier geht es zum Teilnehmerfeedback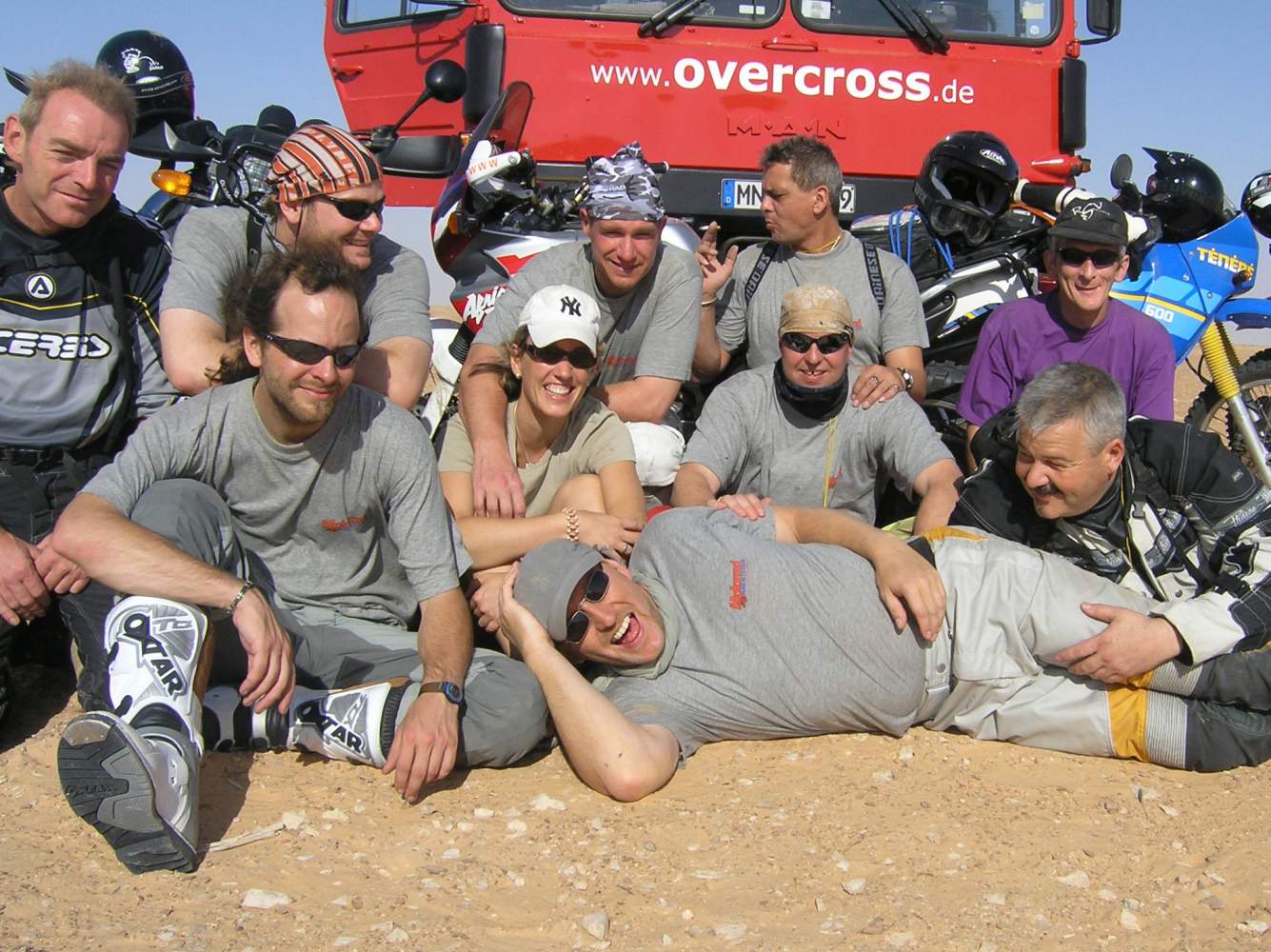 Bild: Enduro Abenteuer & Reise im Norden Afrikas. Die OVERCROSS Angels, selten so viel gelacht wie auf dieser Tour ;-)
Folgende Motorräder stehen für das Reiseland Tunesien zu Vermietung:



Itinerary may change without further notice due to weather-, road- or any other condition that OVERCROSS or its guides feel will jeopardize the safety of the group or material.
Dates
start
finish
Price
Grouptour
inquiry
There are no fix dates for this tour. We are happy to set up dates to your liking.
Optional additional services
$266 motorcycle transport of Tuebingen and back to Genoa
$1,758 Rental bike KTM 990 Adventure
$1,998 Rental bike KTM 690 Enduro R
$2,078 Rental bike KTM 790 Adventure
$2,158 Rental bike Yamaha XTZ 700 Ténéré