tour description
Die schönsten Motorradstrecken im südlichen Afrika von Namibia nach Südafrika!
Die Pisten zwischen den beiden südlichsten Ländern Afrikas sind wohl die schönsten, die mit einer Enduro befahren werden können! Eine Tour de Force, die aber auch Einsteiger reizen dürfte. Für Fortgeschrittene sind die Pisten vielleicht zu leicht, aber wer will schon die Schönheit der afrikanischen Landschaft, Flora und Fauna verpassen? Von Windhoek nach Sossusvlei nach Lüderitz, entlang dem Oranje Fluss, dem Fish River Canyon und der Cederberge sowie dem Bloubergstrand gibt es viel zu erfahren und zu erleben! Auf dieser abenteuerlichen Strecke werden wir so einiges sehen!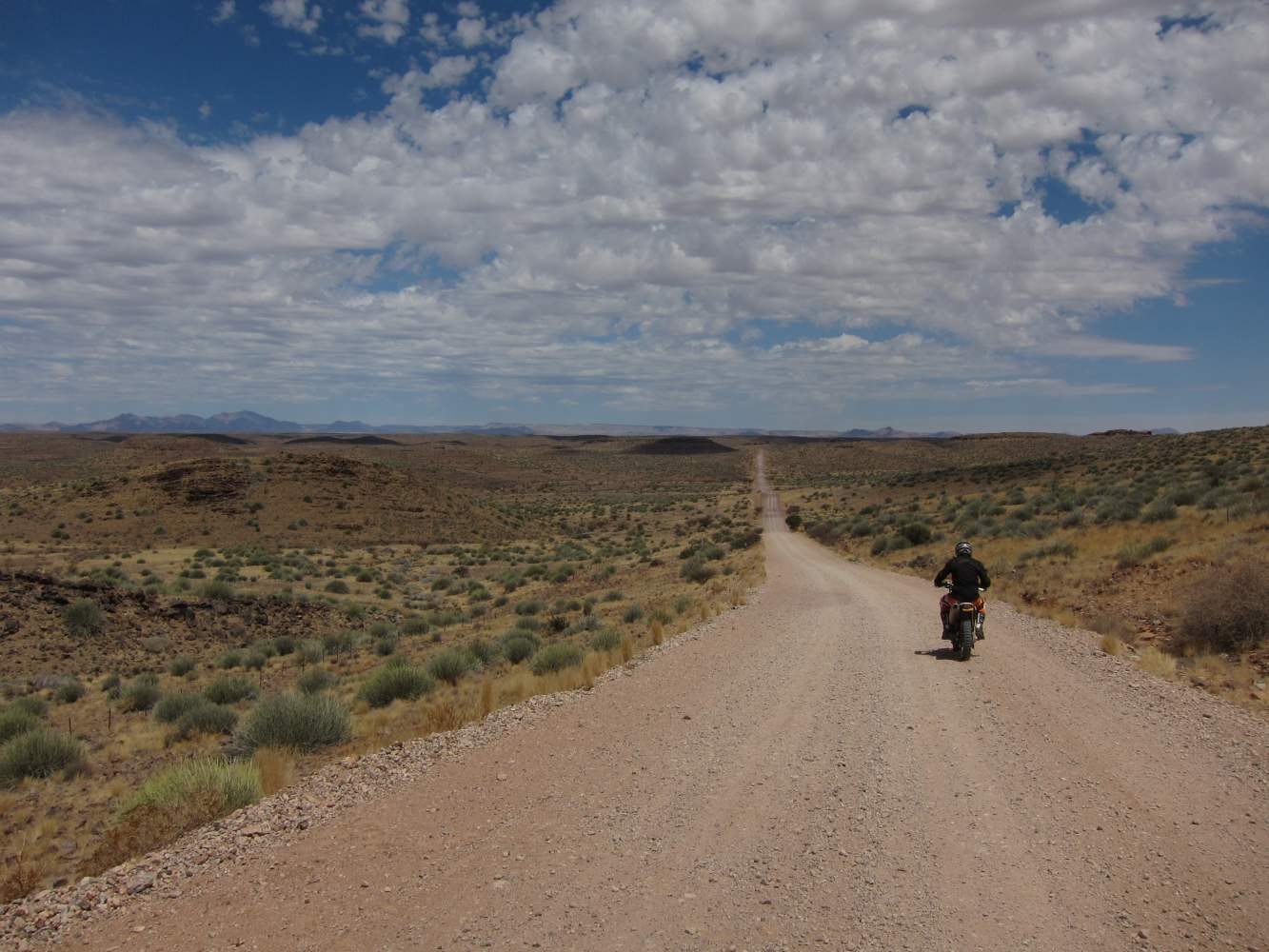 Mit dem Motorrad auf Schotterpisten durch unendliche Weiten
Reiseverlauf
Motorradtour Tag 1:

Windhoek - Sesriem [320 km]

Ankunft in Windhoek und Transfer vom Flughafen nach Windhoek. (Nur Passagiere der Air Namibia können noch heute sehr früh eintreffen! Reisende mit anderen Fluggesellschaften bitte einen oder mehrere Tage vorher anreisen. Buchungen für Unterkunft können wir übernehmen.) Übernahme der Motorräder und Einweisung. Start Richtung Südwesten der Namib Wüste entgegen. Am Spreetshoogte Paß haben wir einen gigantischen Ausblick runter zur Namib Wüste. An dieser Randstufe haben sich vor 100 Millionen Jahren Südamerika und Afrika getrennt. Nachtanken an der Wüstentankstelle Solitaire. Unser Endziel ist Sesriem, das Eingangstor zum Sossusvlei. Lodge / Camping. Abendessen in der Lodge zu Selbstkosten.
Motorradtour Tag 2:

Sesriem - Sossusvlei - Aus [340 km]

Wir müssen heute früh aufstehen, um den Sonnenaufgang im Dünengebiet zu erleben. Sossusvlei ist eine Lehmsenke umschlossen mit roten Sanddünen, die mit 300 m zu den höchsten der Welt gehören. Bei einer kleinen Dünenwanderung kann man die Weite und Stille des orangefarbenen Dünenmeers "atmen". Leider sind hier im National Park keine Motorräder zugelassen und wir wechseln in den komfortablen Begleittruck. Auf dem Rückweg besuchen wir die enge Schlucht des Sesriem Canyon. Weiter geht es dann am riesigen Namib Naukluft National Park entlang. Links die Randstufe und rechts die rot oxidierten Dünen der Namib. Endlose Flächen die von Oryx Antilopen durchkreuzt werden. Tagesziel ist Klein Aus Vista. Lodge / Camping. Frühstück. Abendessen zu Selbstkosten im Restaurant.


Die Dünen der Namibwüste auf der Motorradtour von Windhoek nach Kapstadt
Motorradtour Tag 3:

Aus - Lüderitz [125 km]

Nach zwei langen Etappen steht heute eine kurze 125 km Asphalt Etappe an. Die Landschaft runter zum Atlantik nach Lüderitz ist einmalig. Weite ohne Ende. Besuch in Kolmannskuppe. Von der reichsten Stadt Afrikas zur Diamantenzeit ist heute nur noch eine Geisterstadt übrig, wo die Sanddünen immer mehr Einzug halten. Nach den zwei langen Etappen steht der Nachmittag zur freien Verfügung, das Deutsch geprägte Städtchen Lüderitz zu entdecken. Pension Frühstück. Abendessen zu Selbstkosten im Restaurant.
Motorradtour Tag 4:

Lüderitz - Rosh Pina - Oranje Fluss [400 km]

Wir fahren wieder ins Inland, ein Stück hinter Aus biegen wir weiter nach Süden ab. Die Strecke nach Rosh Pina ist landschaftlich einmalig und sehr beeindruckend. Danach schlängelt sich die Piste durch den Canyon des Oranje Flusses. Wasser und Wüste. Urplötzlich erscheint hier der Traubenanbau aus der Wüstenlandschaft. Unser Ziel ist ein River Resort am Fluss. Lodge / Camping. Frühstück / Abendessen inkl.
Motorradtour Tag 5:

Oranje Fluss - Fish River Canyon - Oranje Fluss [260 km]

Heute unternehmen wir eine Tagestour zum Fish River Canyon dem zweitgrößten Canyon der Welt. Hier muss man etwas verweilen um die Weite und Stille zu genießen. Kontrastreiche Piste parallel zum Fischfluss. Kurvige Piste runter nach Ai Ais. Ein Bad im warmen Quellwasser stärkt wieder die Glieder. Nach dem Mittagessen zurück durch die landschaftlich sehr schöne Stecken zum Oranje Grenzfluss. Bungalow / Camping. Frühstück/Abendessen inkl.


Durch Canyons und Berge nach Kapstadt - Der Fish River Canyon
Motorradtour Tag 6:

Oranje - Calvinia [500 km]

Früher Start, denn es steht die längste Etappe bevor, aber die Asphaltpiste bis Kamieskroon bringt uns zügig voran. Auch die Grenzformalitäten sind schnell abgehandelt. Die Schotterpiste Richtung Südosten führt über zwei Pässe. Nachtanken in Kliprand - eine Tankstelle und ein Einkaufsladen - nicht viel mehr. Die Bergformationen sind beeindruckend. Bungalow / Camping. Frühstück. Abendessen zu Selbstkosten im Restaurant.
Motorradtour Tag 7:

Calvinia - Cederberge [280 km]

Fahrt durch zerklüftete Berglandschaft, nach dem Mittagstop wird es in den Cederbergen noch gewaltiger. So mancher vergleicht es hier mit den Dolomiten in Europa. Unser Übernachtungsort liegt in einem idyllischen Tal. Lodge / Camping. Frühstück. Abendessen zu Selbstkosten im Restaurant.
Motorradtour Tag 8:

Cederberge - Kapstadt [210 km]

Schotterpisten Abfahrt aus den grandiosen Cederbergen, über mehrere Passabschnitte mit eindrucksvollen Namen wie "Grootrivier-Blinkberg und Gydopaß". Dann kurz vor Kapstadt Asphaltstraßen durch die Obstgärten von Ceres - durch die enge Schlucht des Baains Kloof Pass nach Wellington im Weinanbaugebiet bis zum berühmten Bloubergstrand mit seiner Hintergrundkulisse, dem Tafelberg. Kapstadt - wir haben eine der schönst gelegenen Städte der Welt erreicht. Wir übernachten in dem idyllischen Vorort Melkbos. Bungalow. Frühstück. Abendessen zu Selbstkosten im Restaurant.


Namibia und Südafrika auf der Enduro - ein unvergleichliches Erlebnis
Motorradtour Tag 9:

Kapstadt [180 km]

Eine Reise nach Kapstadt geht erst dann zu Ende, wenn man das berüchtigte Kap der Stürme - Kap der guten Hoffnung besucht hat. Da der Verkehr hektisch und nicht ungefährlich ist empfiehlt es sich, die Tagestour im Begleitbus zu machen. Wir besuchen den Pinguin Strand "Boulders Beach", Muizenberg, das Kap und fahren über den eindrucksvollen Chapmans Peak an der Steilküstenstraße zurück nach Kapstadt.
Bungalow. Frühstück. Die Tour ist am späten Nachmittag beendet. Es kann die gebuchte Unterkunft noch genutzt werden.

Anschlussurlaub in Kapstadt und der Weinregion am Kap kann von OVERCROSS gerne organisiert werden!




Itinerary may change without further notice due to weather-, road- or any other condition that OVERCROSS or its guides feel will jeopardize the safety of the group or material.